Speedwrite Review: Is It the Best AI Writer?
Speedwrite Review: Is It the Best AI Writer?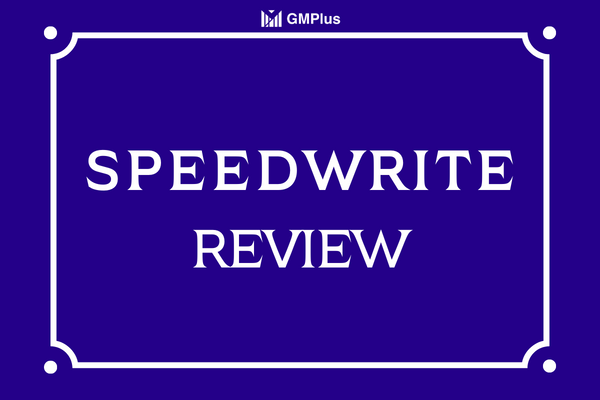 Free AI Email Generator Gmail-GMPlus
01 What is Speedwrite?
"Speedwrite is an advanced automated text generator designed to offer you fresh and unique content while maintaining outstanding style and grammar. It harnesses the power of cutting-edge AI to reshape your text, making it more captivating and persuasive. Speedwrite is accessible in a freemium model, with a subscription plan that unveils additional features.
Here's what Speedwrite brings to the table:
Text Redesign: Speedwrite has the ability to remodel your text in an alternative manner, preserving the original intention. This can be beneficial when you're looking to condense your writing or shift its tone.
Sentence Restructuring: Speedwrite aids in transforming your sentences into a more fluid and engaging format. This is advantageous in improving the rhythm of your prose or making your ideas more transparent.
Idea Generation: Speedwrite acts as a springboard to stimulate new concepts for your content. This feature is practical for brainstorming sessions or when you're generating novel content.
Versatile Content Creation: Speedwrite is adaptable to write a diverse range of content, encompassing essays, articles, blog posts, and even creative writing.
To sum up, Speedwrite is a potent instrument designed to enhance your writing abilities and generate superior content. If you're seeking a way to increase your productivity and creativity, Speedwrite should be your go-to tool.
02 SpeedWrite Reviews: Is it worth It?
It's not a clear-cut answer.
The value of Speedwrite is largely dependent on your unique writing needs and financial circumstances. If you're a dedicated author in need of a utility to enhance your writing pace, efficiency, and creativity, investing in Speedwrite could be a well-considered move. Conversely, if you're navigating on a tight budget or are in the nascent stages of your writing career, there are alternative free and cost-effective tools that could deliver comparable outcomes.
To aid your decision-making, here's a rundown of Speedwrite's strengths and potential drawbacks:
It's designed to increase your writing speed and efficiency
It's a fertile ground for new idea generation
It can assist in enhancing your writing style
It's user-friendly
It's accessible across desktop and mobile platforms
It can come across as pricey
Its output is not always precise
It may generate text that lacks originality
In the end, the choice to incorporate Speedwrite into your writing toolbox is entirely in your hands. If you foresee it adding value to your writing endeavors, it's worth giving it a shot. But remember, if you're operating on a budget or are still finding your footing as a writer, there are other free or economical tools out there that can help you attain similar outcomes.
03 SpeedWrite Pricing: Is SpeedWrite Free?
Indeed, Speedwrite comes with a free version, providing access to a handful of features. The complimentary plan allows you to make 20 predictions daily. If you find that your requirements surpass this limit, you may consider opting for one of the premium subscriptions.
These premium packages commence at a monthly rate of $19.99 and come with the advantage of unlimited predictions. They also provide access to additional features, such as grammar corrections and plagiarism checks.
Below is a summary of Speedwrite's various pricing schemes:
Plan
Price
Features
Free
$0
20 predictions per day
Monthly
$19.99
Unlimited predictions, grammar correction, plagiarism detection
Semi-annual
$69.95
Unlimited predictions, grammar correction, plagiarism detection, 50% discount on annual plan
Annual
$99.95
Unlimited predictions, grammar correction, plagiarism detection, 58% discount on monthly plan
drive_spreadsheetExport to Sheets
04 SpeedWrite Tutorial: How to Use SpeedWrite for Email Generator?
Here is a guide on leveraging SpeedWrite for email generation
Navigate to the SpeedWrite webpage and initiate an account setup.
After the account is activated, you'll gain access to the SpeedWrite editor.
Kick off your email generation by formulating the subject line.
Next, begin composing the body of your email.
As you write, SpeedWrite will propose various text rephrasing suggestions.
These proposals can be used to elevate the lucidity and brevity of your email.
Once you are content with your email draft, hit the "Generate" button to finalize the version.
Here are some useful hints for exploiting SpeedWrite for email generation:
Formulate a succinct and coherent subject line first.
In the body of your email, favor straightforward and plain language.
Steer clear of industry-specific lingo or technical terms that might confuse the recipient.
Scrutinize your email meticulously before dispatching it.
Here are some exemplars of how you can deploy SpeedWrite to construct different sorts of emails:
Sales email: You can utilize SpeedWrite to generate a sales email underscoring your product or service's merits.
Newsletter email: You can exploit SpeedWrite to create a newsletter email encapsulating your most recent news and updates.
Thank you email: You can use SpeedWrite to craft a thank you email manifesting your appreciation towards a customer or client.
Follow up email: You can utilize SpeedWrite to generate a follow-up email reminding a customer or client about a specific matter.
05 SpeedWrite Alternatives: Which is your Best AI Email Writers?
QuillBot
QuillBot is a paraphrasing tool that can help you rewrite your text in a different way, while preserving the original meaning. It also has an email generator feature that can help you write clear and concise emails.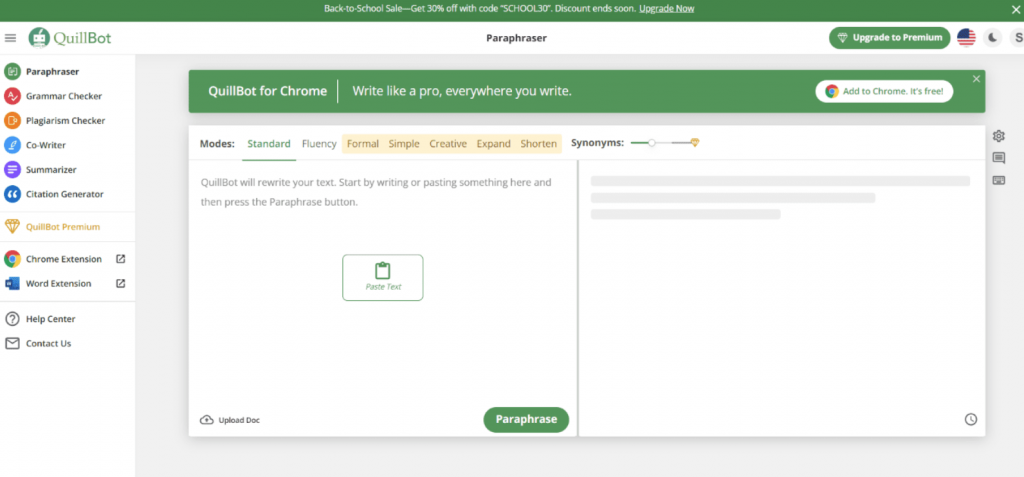 Grammarly
Grammarly is a grammar checker that can help you improve your grammar and punctuation. It also has an email checker feature that can help you identify and correct errors in your email writing.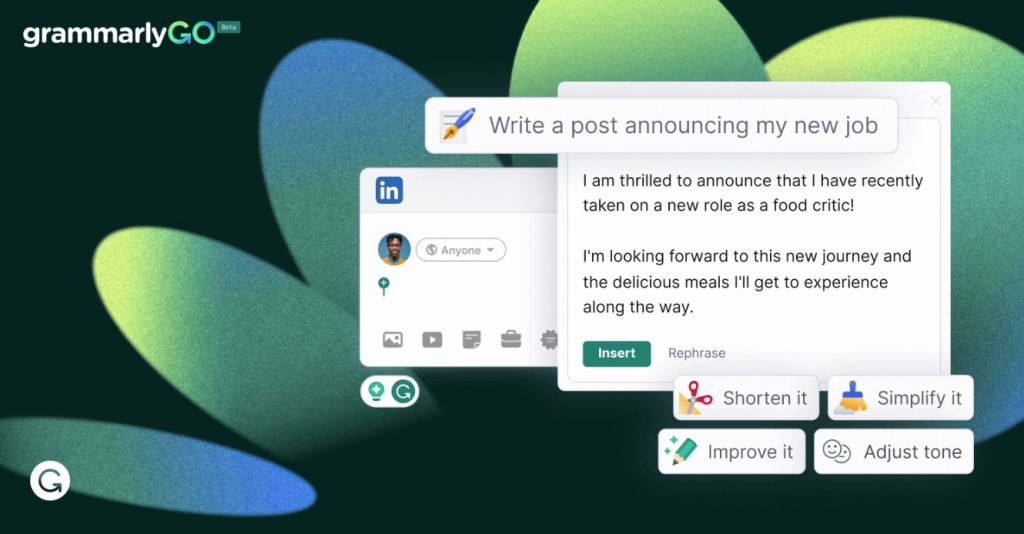 ProWritingAid
ProWritingAid is a writing assistant that can help you identify and correct errors in your writing. It also has an email editor feature that can help you improve the clarity and conciseness of your emails.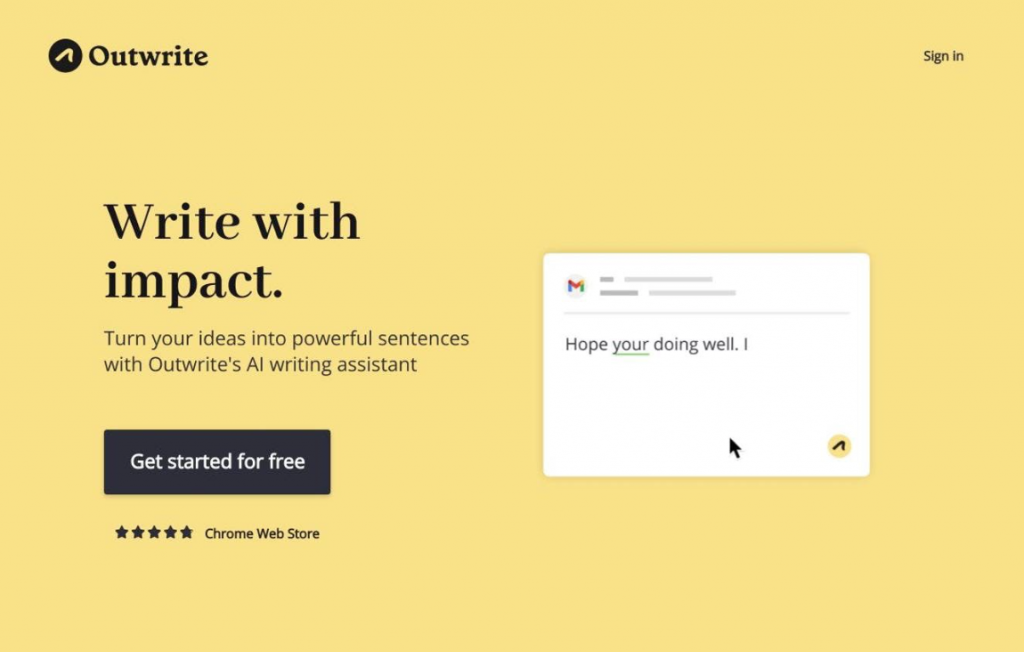 Chatgptwriter.ai
"ChatGPT Writer.AI" is an advanced AI-driven Chrome extension, designed to assist in crafting emails, messages, and a variety of other content. Its powerhouse is ChatGPT, a robust language model trained on an extensive dataset, enabling the generation of accurate, innovative text.
Starting with "ChatGPT Writer.AI" is a breeze. Simply download and set up the extension, then access it through your browser's toolbar icon. From here, input your specific task, like "Draft an email regarding the meeting" or "Compose a message to a friend about the party." "ChatGPT Writer.AI" will then take your directive and produce appropriate content.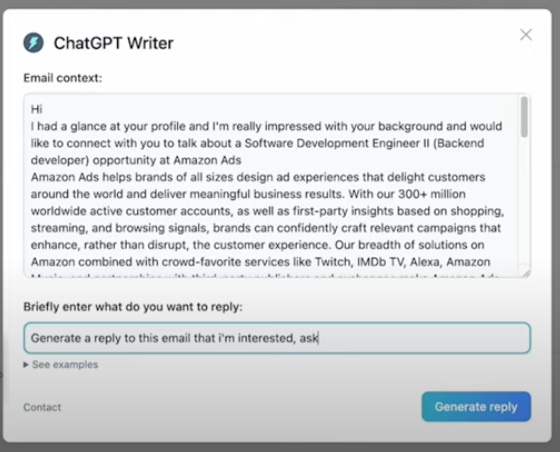 Monica.im
Monica.im serves as an AI-enhanced writing helper, proficient in a plethora of activities such as: Resolving inquiries; Crafting engaging copy; Translating, rewording, and clarifying text; Streamlining tasks; Delivering tailored responses; Monica.im's functionality stems from the ChatGPT API, allowing it to evolve and perfect its capabilities with each use. Furthermore, it can tap into real-world data via Google Search, enhancing the breadth of its understanding.
As a Chrome extension, Monica.im is easily accessible on any webpage. A quick Cmd+M combination will summon her assistance right away.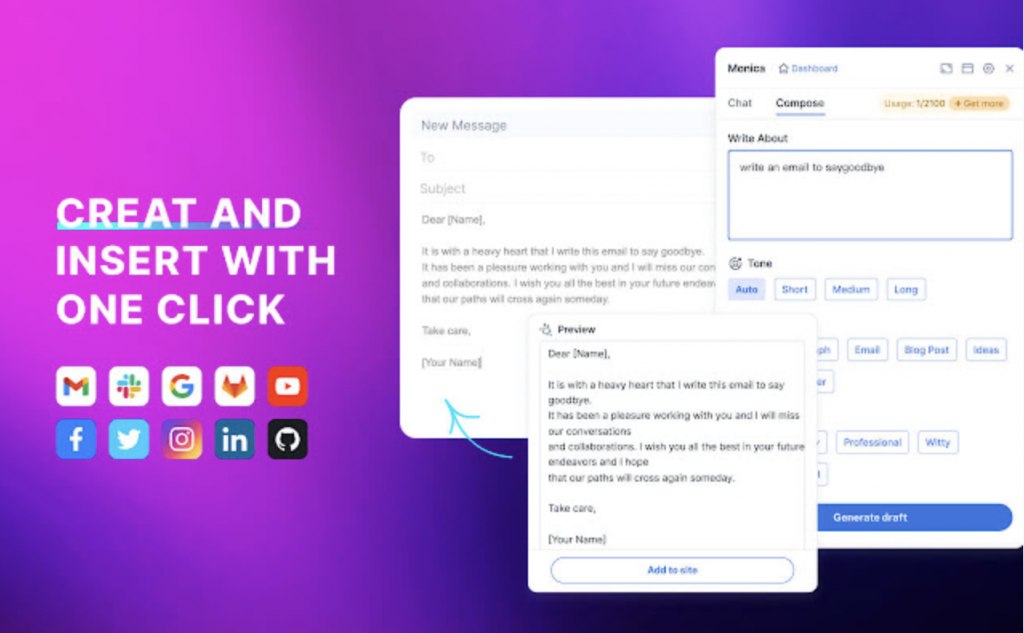 Supercharge your email writing with GMPlus! 🚀 This AI-powered tool is your secret weapon to crafting compelling emails effortlessly.
100+ AI-Generated Prompts: With a vast array of prompts tailored to various professions, GMPlus ensures you never run out of ideas.
Multilingual Output: Whether you're writing in English, Spanish, French, or any other language, GMPlus has got you covered.
Custom Template Storage: Save and store your frequently used templates for quick access and reuse. GMPlus is all about enhancing your efficiency.
Experience the future of email writing with GMPlus today!
Grow Your Business with GMPlus,
the AI Email Generator on Gmail
START FOR FREE