Review: QuillBot AI – How to be Co-writer?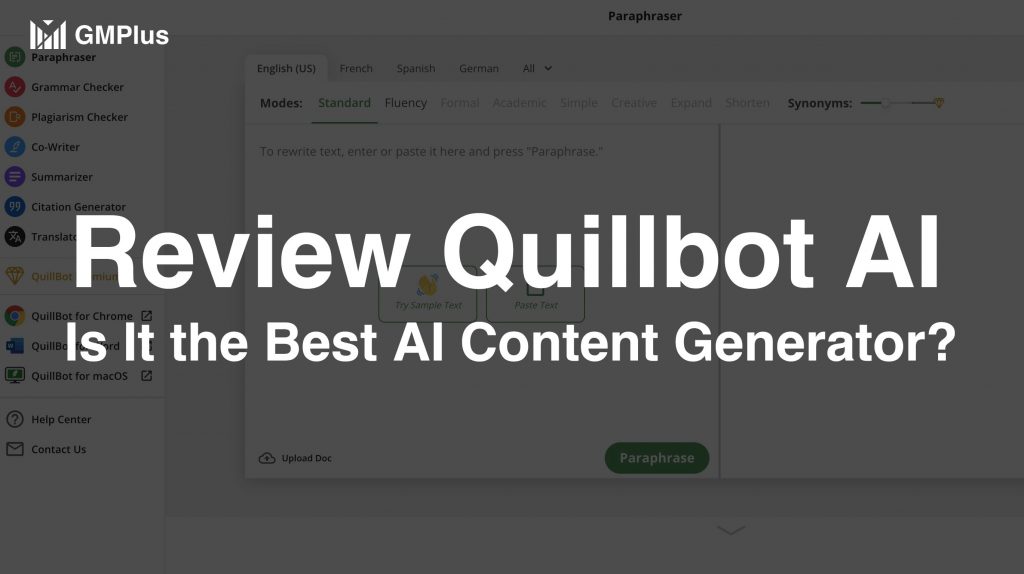 QuillBot AI serves as a paraphrasing tool, leveraging the power of artificial intelligence to enhance the quality of your written work. It can modify sentences, entire paragraphs, or full articles, all while maintaining the initial meaning. QuillBot provides various modes such as Standard, Fluency, Creative, and Formal to fit various writing needs and styles. This tool is commonly employed for numerous tasks, ranging from academic compositions, content crafting to English language skill enhancement.
A closer look at some of the key features QuillBot AI offers:
Rephrasing: QuillBot has the ability to adjust your text in numerous ways, which includes altering the sequence of words, substituting synonyms, and restructuring sentences.
Grammar Checking: QuillBot scrutinizes your text for any grammatical or punctuation mistakes.
Plagiarism Detection: QuillBot is capable of identifying plagiarism, assisting you in steering clear of it.
Summarizing: QuillBot has the ability to condense your text into a shorter, more succinct version.
Word Selection: QuillBot assists you in picking the most fitting words for your written content.
Stylistic Improvement: QuillBot aids you in refining the style of your written pieces.
02 QuillBot AI Reviews: Is it worth It?
QuillBot AI utilizes artificial intelligence as a paraphrasing instrument to augment the caliber of your writing. The tool has the capacity to modify sentences, whole paragraphs, or even full-length articles while retaining the original context. QuillBot proposes an array of modes like Standard, Fluency, Creative, and Formal, designed to fit diverse writing requirements and styles. The tool is frequently employed for numerous tasks, such as scholarly composition, content development, and honing English language capabilities.
The value of QuillBot AI is subjective and depends on your specific needs and financial constraints. If you're in pursuit of a robust paraphrasing tool to refine your writing, QuillBot AI could be a strong contender. Nonetheless, if budget constraints are a concern, or if you're uncertain about the tool's frequent use, it may be worth exploring alternative options.
Consider these factors when evaluating the worth of QuillBot AI:
Your Requirements: What features are you seeking in a paraphrasing tool? Are you in need of a tool that could help enhance your grammar and punctuation? Do you desire a tool that helps spark fresh ideas? Are you looking for a tool that assists you in avoiding plagiarism?
Your Budget: What's your paraphrasing tool budget? QuillBot AI has an array of pricing plans allowing you to select one that aligns with your budget.
Usage Frequency: How frequently do you anticipate using the tool? If your usage is expected to be occasional, investing a large amount may not be justified. Conversely, if you plan on frequent use, a paid plan could be a viable option.
In essence, QuillBot AI is a potent tool that can assist in improving your writing. However, your personal needs and budget are crucial factors to consider when deciding its worth.
Some user reviews of QuillBot AI:
"QuillBot AI is a superb instrument for enhancing my writing. It assists me in rephrasing sentences to be more clear and concise. I also appreciate the plagiarism checker feature, preventing unintended plagiarism." - John Smith, student
"QuillBot AI is indispensable for my academic writing. It assists me in generating fresh ideas and refining my grammar and punctuation. I also appreciate the feature that allows me to select my desired fluency level, enabling me to get the precise results I need." - Jane Doe, professor
"QuillBot AI is an excellent tool for content creators. It helps me to abbreviate my articles and find the perfect word choice. I also appreciate using it to brainstorm new content ideas." - Susan Jones, blogger
If you're contemplating using QuillBot AI, it's recommended to give the free version a try initially to see if it suits your needs. You can also peruse reviews from other users for additional feedback.
03 QuillBot AI Pricing: Is QuillBot AI Free?
Indeed, QuillBot AI provides a complimentary plan with restricted features. The features available under this free plan include:
Rephrasing: You're permitted to paraphrase up to 700 characters per usage.
Summarizing: You're allowed to condense text up to 5,000 characters for each usage.
Grammar Analysis: You're able to scan your text for grammatical and punctuation errors.
Plagiarism Scan: You're equipped to examine your text for instances of plagiarism.
If you're uncertain about the plan that best suits your needs, QuillBot AI offers a trial version of their premium plan. This enables you to experience the benefits of the premium plan for three days without any financial commitment.
| Plan | Price | Features |
| --- | --- | --- |
| Free | Free | Paraphrasing, summarizing, grammar checking, plagiarism checking |
| Monthly | $19.95 | Unlimited paraphrasing, summarizing, more synonym options, more writing modes, custom mode, plagiarism checker |
| Semi-annual | $13.33 | Same as Monthly plan, billed every 6 months |
| Annual | $8.33 | Same as Monthly plan, billed every 12 months |
04 QuillBot AI Tutorial: How to be Co-writer?
Here's a step-by-step guide on utilizing QuillBot AI's Co-Writer feature:
Visit the QuillBot website and log into your account.
Navigate to the "Co-Writer" section.
Paste the text you wish to paraphrase in the Co-Writer input field.
Utilize the settings available on the right side of the Co-Writer input field to personalize your paraphrasing experience. This includes:

Synonym Alternatives: This feature dictates the number of synonyms QuillBot AI will incorporate when rephrasing your text.
Writing Style: This feature determines the paraphrased text's style.
Custom Style: This feature gives you the flexibility to design your own unique writing style.

Press the "Paraphrase" button.
QuillBot AI will now rephrase your text, showcasing the results in the Co-Writer input field.
You can further edit the paraphrased text as required.
For an optimized experience using QuillBot AI's Co-Writer, consider these additional suggestions:
Utilize the "Synonym Alternatives" setting to dictate the number of synonyms used by QuillBot AI in paraphrasing your text. If a more natural-sounding rephrase is your goal, fewer synonyms can be used. If a more succinct paraphrase is what you're after, you can opt for a greater number of synonyms.
The "Writing Style" setting can help you control the style of your rephrased text. For example, if your writing is for an academic paper, the "Formal" style could be a good choice. Alternatively, if you're drafting a blog post, the "Creative" style could be more fitting.
With the "Custom Style" setting, you can formulate your own unique writing mode. This feature is useful to fine-tune the paraphrasing process to your precise requirements.
Don't forget to edit the paraphrased text as needed. While QuillBot AI's Co-Writer is an excellent tool for idea generation, it may not always be flawless. You'll still need to review and refine the paraphrased text to ensure accuracy and prevent errors.
05 QuillBot Alternatives: Which is your Best AI Co-writer?
Copysmith
Copysmith is an AI writing tool that can help you generate high-quality content, including blog posts, social media posts, and product descriptions.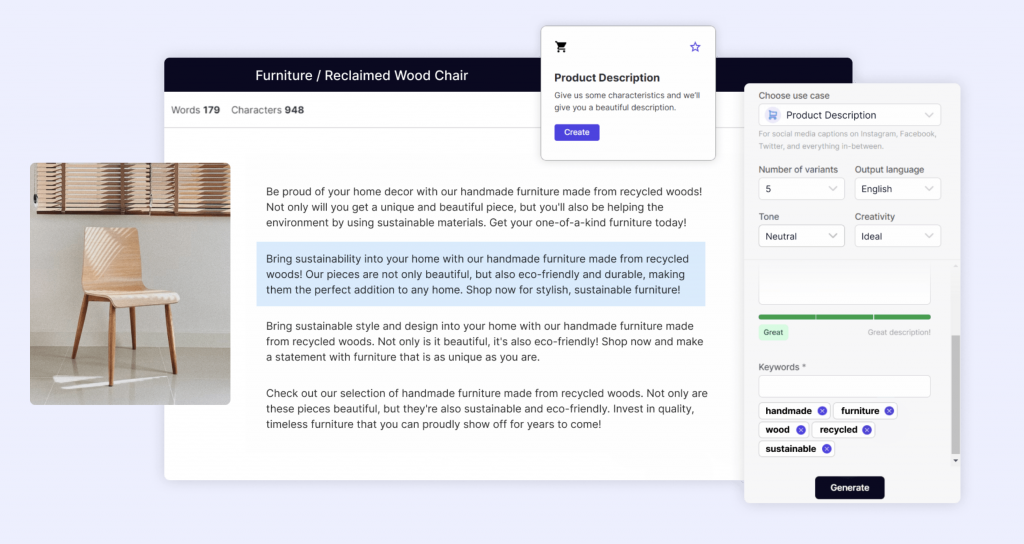 Writesonic
Writesonic is a newer AI writing tool that is quickly gaining popularity. It can help you write emails, social media posts, and other content. It is known for its ability to generate creative and original content.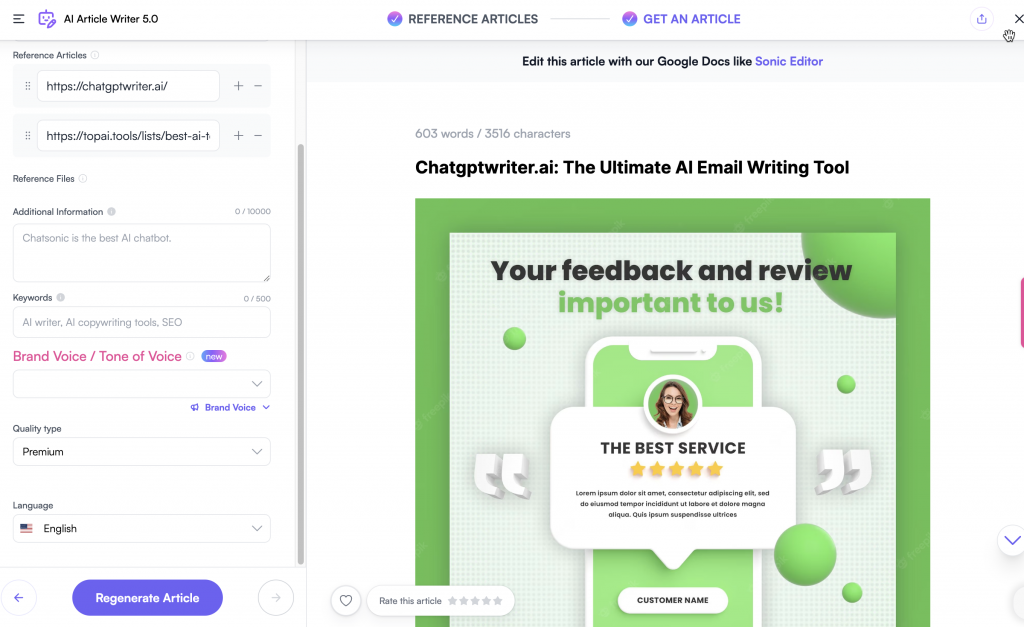 QuillBot
QuillBot is a paraphrasing tool that can help you rewrite your text in a different way, while preserving the original meaning. It also has an email generator feature that can help you write clear and concise emails.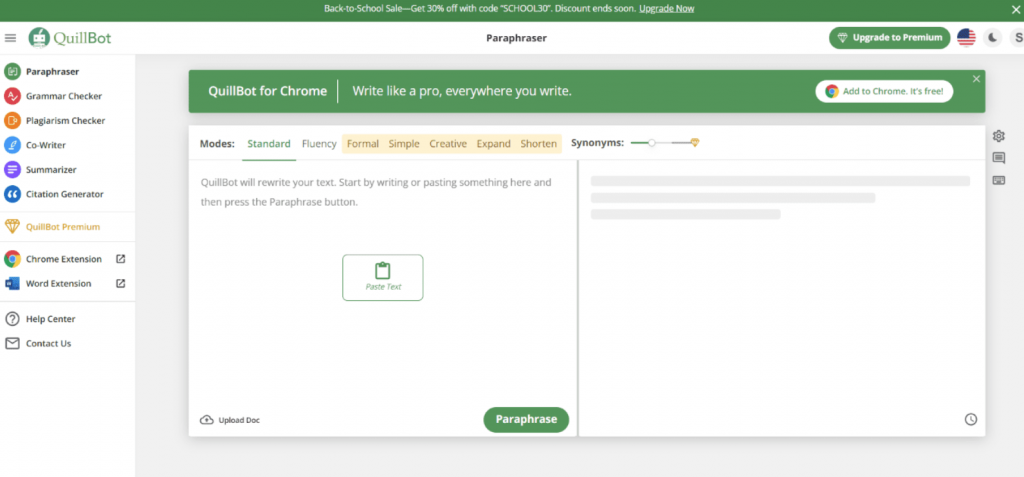 Grammarly
Grammarly is a grammar checker that can help you improve your grammar and punctuation. It also has an email checker feature that can help you identify and correct errors in your email writing.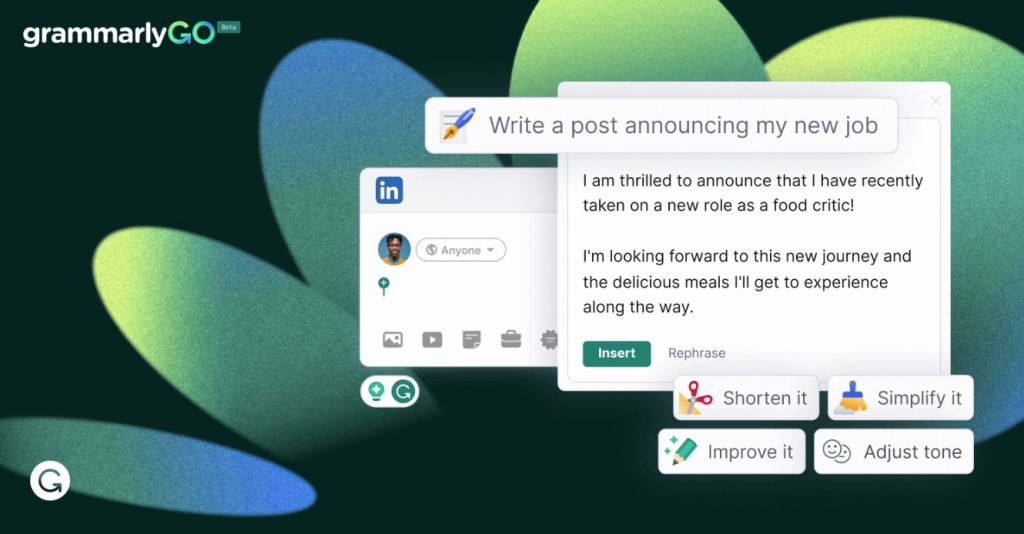 ProWritingAid
ProWritingAid is a writing assistant that can help you identify and correct errors in your writing. It also has an email editor feature that can help you improve the clarity and conciseness of your emails.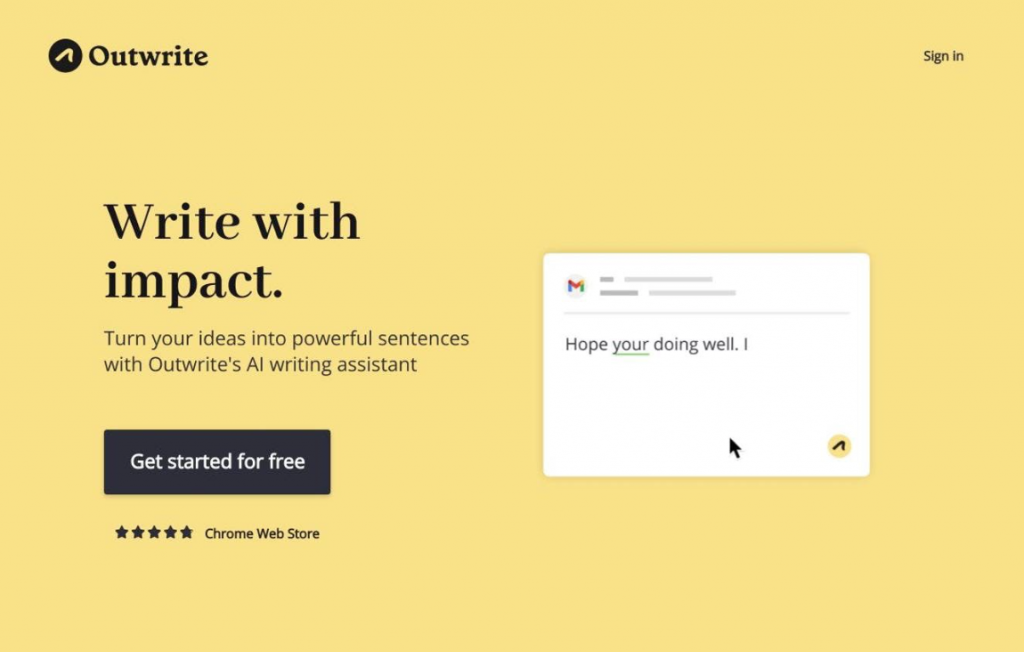 Monica.im
Monica.im serves as an AI-enhanced writing helper, proficient in a plethora of activities such as: Resolving inquiries; Crafting engaging copy; Translating, rewording, and clarifying text; Streamlining tasks; Delivering tailored responses; Monica.im's functionality stems from the ChatGPT API, allowing it to evolve and perfect its capabilities with each use. Furthermore, it can tap into real-world data via Google Search, enhancing the breadth of its understanding.
As a Chrome extension, Monica.im is easily accessible on any webpage. A quick Cmd+M combination will summon her assistance right away.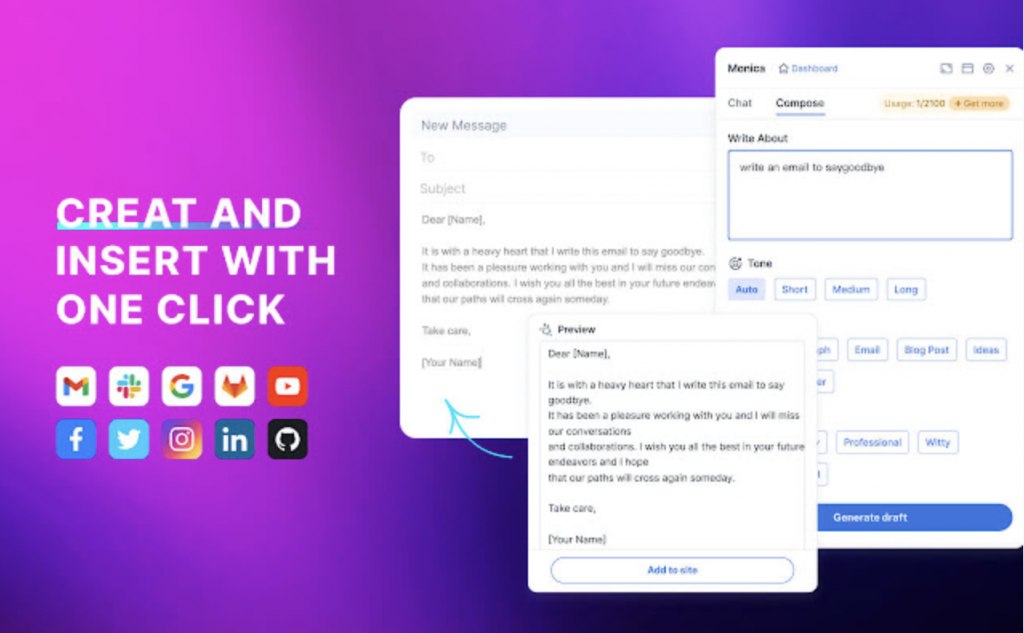 Supercharge your email writing with GMPlus! 🚀 This AI-powered tool is your secret weapon to crafting compelling emails effortlessly.
100+ AI-Generated Prompts: With a vast array of prompts tailored to various professions, GMPlus ensures you never run out of ideas.
Multilingual Output: Whether you're writing in English, Spanish, French, or any other language, GMPlus has got you covered.
Custom Template Storage: Save and store your frequently used templates for quick access and reuse. GMPlus is all about enhancing your efficiency.
Experience the future of email writing with GMPlus today!
Grow Your Business with GMPlus,
the AI Email Generator on Gmail
START FOR FREE