How to Create RSVP email with AI Email Generator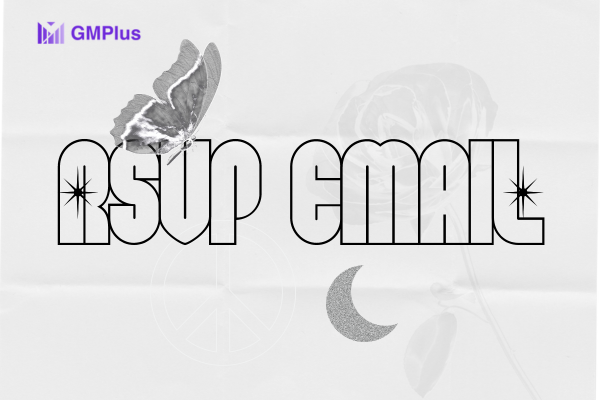 rsvp email
RSVP stands for "répondez s'il vous plaît," which is French for "please respond." An RSVP email is a message sent to guests to confirm their attendance at an event. It typically includes information such as the event date, time, location, and RSVP deadline.
RSVP emails are used to track how many people are planning to attend an event. This information is important for the host to plan accordingly. For example, the host needs to know how much food to prepare and how many tables to set up.
What is the significance of it?
RSVP emails are important because they help to ensure that events are well-attended. When guests RSVP, the host knows how many people to expect. This helps to avoid the situation where an event is poorly attended and the host has wasted money on food and supplies. Additionally, RSVP emails help to ensure that the host has enough food and supplies for everyone who attends. This is important for safety reasons, as well as for the comfort of the guests.
Content
01 AI Email Generator Gmail-GMPlus
02 Best 3 rsvp Email Template
Example 1:
Subject: RSVP for the Company Christmas Party
I hope this email finds you well.
I'm writing to invite you to the annual Company Christmas Party! This year's party will be held on Friday, December 23rd from 7pm to 11pm at the [Venue Name].
We'll have food, drinks, music, and dancing. It's sure to be a great time!
To RSVP, please reply to this email with your name and how many guests you'll be bringing. The RSVP deadline is December 15th.
We hope to see you there!
Best regards,
[Your Name]
Example 2:
Subject: RSVP for the Smith Family Reunion
The Smith Family Reunion is coming up on Saturday, July 2nd! We're so excited to see you all again.
The reunion will be held at the [Venue Name] from 11am to 5pm. There will be food, drinks, games, and activities for all ages.
We'd love for you to come. To RSVP, please reply to this email with your name and how many guests you'll be bringing. The RSVP deadline is June 15th.
We can't wait to see you there!
Example 3:
Subject: RSVP for the Wedding of [Bride's Name] and [Groom's Name]
We are so excited to invite you to the wedding of [Bride's Name] and [Groom's Name]! The wedding will be held on Saturday, September 10th at 2pm at the [Venue Name].
We would love for you to be a part of our special day. To RSVP, please reply to this email with your name and how many guests you'll be bringing. The RSVP deadline is August 15th.
We can't wait to celebrate with you!
03 Step-by-step guide to Create rsvp email
Step 1: Write an Email Prompt about rsvp email
When embarking on the journey of composing a compelling <rsvp email> message, your initial step is to meticulously outline the content. This email will serve as your conduit for communication with the recipients, making it crucial to ensure that the content is concise, captivating, and capable of sparking interest that ultimately compels action. The following detailed process will assist you in creating an alluring <rsvp email>:
Clarify Your Objective: Start by clearly defining the purpose of your <rsvp email>. Are you seeking attendance confirmation for an event, or are you soliciting feedback? Ensuring your objective is well-defined will enable you to convey it accurately within the email.
Identify Your Audience: Determine the characteristics and interests of your recipients. This will aid you in selecting an appropriate tone, style, and content that will lend the email a personalized touch.
Step 2: Choose the Tone, Language, Length and AI Model
The tone and language employed in your <rsvp email> play a pivotal role in email marketing. Depending on your target audience and the nature of your event, choose a tone that resonates and utilize language that is succinct yet engaging. Additionally, adjust the email's length to cater to the amount of information and the reading habits of your recipients.
In terms of selecting an AI model, opt for one that excels in crafting emails. This ensures that the generated content aligns with your marketing objectives, striking a balance between creativity and alignment with your goals.
Step 3: Click Generate Email and input key information
Upon clicking the "Generate Email" button, proceed to input essential information based on your event specifics. This information might encompass:
Event date, time, and location
Method and deadline for confirming attendance
Contact details to facilitate replies or inquiries
It's vital to ensure that this key information is accurate to enable the email to effectively convey the crucial details of the event.
Step 4: Only 1 click to Insert Compose of Gmail, Hotmail and more
Once your rsvp email has been generated, it's time to effortlessly insert it into the draft of your chosen email client. Depending on your email provider, the steps might vary, but the fundamental process remains:
Open your email draft.
Click on the "Insert" option within the email body.
Paste the content of your generated <rsvp email> into the email body.
Ensure that the subject line, recipient list, and other pertinent information are pre-set.
Once completed, simply hit the "Send" button, and the email will be delivered directly to the recipients' inboxes.
By meticulously following these detailed steps, you'll be empowered to seamlessly employ <rsvp email> for email marketing purposes. This ensures that your email content aligns with the language, style, and professionalism expected within North American English standards, ultimately bolstering event attendance and recipient engagement.
04 Tips for rsvp email
Tip 1: rsvp email subject line
The subject line is the first element of your email that the recipient sees. Make sure it's succinct, relevant, and attention-grabbing. A well-crafted subject line might look like, "Potential Collaboration: [Your Name] & [Company Name]" or "Exploring Opportunities at [Company Name]". The subject line should immediately convey your intention and subtly indicate your enthusiasm for the company.
The subject line of your <rsvp email> serves as the gateway to capturing your recipients' attention. It's your first and possibly only chance to make a lasting impression. To ensure your subject line stands out and compels recipients to open the email, consider these strategies:
Be Intriguing: Use curiosity to your advantage. Craft a subject line that leaves recipients wondering what the email contains.
Highlight Benefits: Showcase the value of the email. Let recipients know what they stand to gain by opening and engaging with it.
Personalize: Incorporate recipient's name or event details for a personalized touch, demonstrating that the email is tailored to them.
Tip 2: rsvp email body
The body of your email should be clear and concise while presenting you as a strong candidate. Start by introducing yourself and why you're reaching out, then detail your qualifications and why you're interested in the company. Show your knowledge about the company and its values, aligning your skills and experiences with their mission and goals. Remember to make it conversational - you're not only selling your skills but also starting a professional relationship.
The body of your <rsvp email> is where you have the opportunity to engage, inform, and persuade your recipients to take action. Here's how to structure and write an effective email body:
Engaging Introduction: Start with a captivating opening that hooks the reader. This could be a brief anecdote, a relevant quote, or a compelling question.
Clear Information: Provide all essential details about the event, including date, time, location, and purpose. Ensure this information is concise and easy to understand.
Call to Action: Clearly state the desired action you want recipients to take, whether it's confirming their attendance, providing feedback, or taking another step.
Benefit-driven Content: Explain what's in it for the recipients. Highlight the benefits of attending the event or engaging with your request.
Visuals and Formatting: Incorporate visuals like images or event banners to make the email visually appealing. Use subheadings, bullet points, and short paragraphs for easy skimming.
Social Proof: If applicable, include testimonials or endorsements from previous attendees to build credibility.
Tip 3:The end of rsvp email
The ending of your email can leave a lasting impression. After providing your information, express appreciation for their time and consideration. Add that you're looking forward to a potential conversation and exploring how your skills could benefit their team. Make sure to include your contact information and attach a copy of your resume and/or portfolio, even if it's already in your signature. You may also indicate your availability for a call or meeting. End with a professional closing such as "Best regards" or "Sincerely", followed by your full name.
A strong conclusion ensures that your rsvp email leaves a lasting impact and prompts the desired action. Here's how to wrap up your email effectively:
Summarize Key Points: Recap the event details and the benefits of attending or engaging.
Reiterate Call to Action: Emphasize the call to action once more. Make it clear and easy for recipients to understand what you want them to do.
Sense of Urgency: Create a sense of urgency if applicable, by mentioning limited spots or a deadline for RSVP.
Express Gratitude: Thank recipients for their time and consideration. Show appreciation for their involvement.
Contact Information: Provide contact details for any questions or clarifications. Make it easy for recipients to reach out if needed.
By following these email marketing strategies in your <rsvp email>, you'll be able to effectively engage your audience, encourage higher event attendance or response rates, and uphold the professionalism and language norms of North American English.
Increase Your Email Writing Productivity by 10x with AI Email Generator Today!