How to Acknowledge an Email with AI Email Generator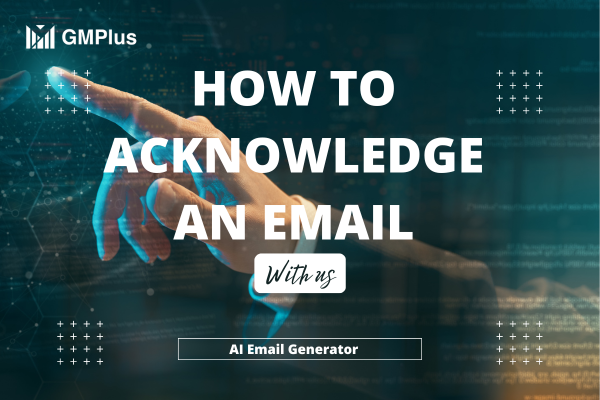 How to Acknowledge an Email
What exactly is an Acknowledge Email?
Email acknowledgment represents a concise message relayed back to the original email sender, signifying the successful receipt of their correspondence.
What's Acknowledge Email's purpose?
Inform the original sender about the successful receipt of their communication.
Express gratitude towards the sender for their email.
Assure the sender that you will be responding to their correspondence promptly.
Offer the sender a quick summary of your current progress.
Demonstrate to the sender that you respect their time and effort in communication.
Assist in maintaining an organized record of received emails.
Help in setting a professional rapport with the sender.
Content
01 AI Email Generator -GMPlus
02 Best 3 Acknowledge an Email Examples
Example A
Subject: Confirmation of Your Email Receipt
I trust you are doing well.
I am writing to acknowledge the receipt of your recent email regarding [subject of email]. I have carefully perused your message, and I am grateful for your initiative to connect.
Rest assured, your email will be thoroughly reviewed, and I aim to respond as quickly as feasible.
I appreciate your understanding and patience.
Warm regards,
[Your Name]
Example B
Subject: Recognition of Your Proposal Submission
I'm grateful for your prompt email and the attached proposal. Upon initial evaluation, it appears to be an excellent starting point.
Before finalizing my feedback, I would like to discuss a few points for clarification. You can expect my communication in the near future.
Meanwhile, please feel free to reach out if you require any further information or assistance.
I appreciate your commitment and effort.
Warm regards,
[Your Name]
Example C
Subject: Confirmation of Your File Receipt
I want to confirm that I have successfully received the file you forwarded. Your email and the attached file are greatly appreciated.
The received file is currently under review, and you can anticipate my response at the earliest convenience.
Thank you for your understanding and patience.
Warm regards,
[Your Name]
03 Step-by-step guide to Acknowledge an Email with AI Email Generator
Step 1: Write an Email Prompt about Acknowledge an Email
Begin by formulating an email prompt that encapsulates the essence of acknowledging an email. This prompt is essentially the crux of your email, meant to affirm the receipt of the sender's email.
Step 2: Choose the Tone, Language, Length and AI Model
Next, ascertain the tone you want to convey in your message - be it formal, informal, or somewhere in between. Select the language to resonate with your audience and decide on an appropriate length for your email. In this stage, also opt for a suitable AI model that fits the nature and complexity of your email content.
Step 3: Click Generate Email and input key information
Once the groundwork is laid, proceed to the 'Generate Email' option. Here, you input all the crucial information, such as details about the sender and their message that requires acknowledgment. These inputs are crucial to crafting a highly customized and relevant email.
Step 4: Only 1 click to Insert Compose of Gmail, Hotmail and more
Lastly, it's time to transfer your well-crafted "Acknowledge an Email" message into your email client of choice. With just a single click, you can effortlessly incorporate your email into the compose box of several popular email services like Gmail, Hotmail, and others. This final step ensures a smooth transition from email generation to its final dispatch.
04 Tips for Acknowledge an Email
Tip 1: Acknowledge an Email subject line
The subject line is a pivotal element of your email, serving as the first point of contact for the recipient. When acknowledging an email, it's important to construct a subject line that clearly and succinctly communicates your intention. The key here is to ensure it is unambiguous and prompts the recipient to open your email. For instance, "Acknowledgment: Your Email Dated [Date]" could serve as a precise and professional subject line.
Tip 2: Acknowledge an Email body
The body of your email is where the bulk of your communication happens. In the case of acknowledging an email, this should include a direct statement of acknowledgment, a note of appreciation for the sender's message, a brief comment on the content (if appropriate), and an indication of the next steps or response time. The body of the email should be clear, respectful, and direct to maintain the utmost professionalism.
Tip 3: The end of Acknowledge an Email
The end of your acknowledgment email is just as important as the beginning. It's an opportunity to close on a positive note and set the tone for future interactions. A simple thank you or a note of appreciation can go a long way in reinforcing the sender's decision to reach out. Also, consider providing your contact details for further discussions or questions. Lastly, close with an appropriate sign-off, such as "Best regards" or "Sincerely," followed by your name.
Increase Your Email Writing Productivity by 10x with AI Email Generator Today!