How to Create Confirmed Receipt Email with AI Email Generator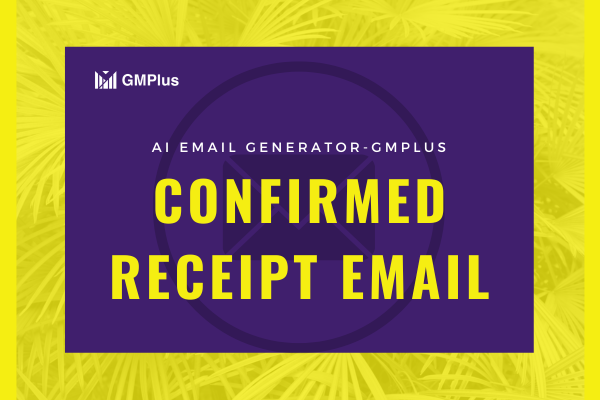 Confirmed Receipt Email
What exactly is a Confirmed Receipt Email?
A Confirmed Receipt Email signifies a message that gets transmitted back to the author of an original email, acting as an affirmation that the primary email has been successfully delivered and recognized.
What's its purpose?
The primary purpose of such emails is to offer reassurance that critical communications have not only been delivered but also comprehended by the recipient.
Why is it important?
Its importance stems from its ability to mitigate potential miscommunications, ensuring all parties involved share the same understanding. In addition, it serves as an instrument to foster better communication and collaboration amongst businesses.
Here are some additional merits of utilizing Confirmed Receipt Emails:
These emails are effective in keeping track of the trajectory of a communication chain.
They serve as a stored record of the communication that can be referred back to in the future.
They aid in establishing and fostering trust and rapport between the communicator and the receiver.
Content
01 AI Email Generator -GMPlus
02 Best 3 Confirmed Receipt Email Examples
Case A: Purchase confirmation email
Subject: Acknowledgement of Your Purchase (#12345)
Body:
Hello [Customer Name],
Your order has been successfully received! We're currently processing your order numbered #12345.
Here is a brief overview of your order details:
Product: [Product Name]
Quantity: 1
Cost: $100
Shipping Charges: $10
Your product is set to be delivered to [Shipping Address] in the next 2-3 business days.
You'll receive an email update with the tracking details once your order dispatches.
We appreciate your purchase!
Case B: Confirmation email for a meeting
Subject: Meeting Scheduled - [Meeting Title]
Body:
Hello [Attendee Name],
This message serves to confirm your presence for our meeting slated on [Date] at [Time] to be held at [Location].
Our agenda for the meeting revolves around [Meeting Agenda].
Please ensure you carry the following to the meeting:
[List of Items]
Feel free to reach out to me should you have any queries.
Case C: Receipt acknowledgment email for a document
Subject: Acknowledgement of Document Received
Body:
Hello [Sender Name],
I'm writing to confirm receipt of the [Document Name]. It's under review and I'll reach out if any questions arise.
The aforementioned examples represent just a few ways to draft confirmed receipt emails. The actual content of your email should be tailored to suit the specific purpose of your email and the confirmation details it needs to encompass. However, these examples should provide you with a foundation for crafting your own confirmed receipt emails.
Here are some pointers to consider when writing a confirmed receipt email:
Maintain clarity and brevity.
Clearly state the email's objective in the subject line.
Incorporate all relevant particulars of the order, meeting, or document.
Express gratitude to the recipient for their email or communication.
Conclude with a directive or a statement indicating the forthcoming actions.
Following these suggestions will ensure that your confirmed receipt emails are concise, clear, and exhibit a professional tone.
03 Step-by-step guide to Create Confirmed Receipt Email
Step 1: Write an Email Prompt about Confirmed Receipt Email
Crafting a Communication Message involving a Confirmed Receipt Email: Initiate by penning down an engaging prompt pertaining to the confirmed receipt email. This should encapsulate the key details to be included in the email and set the stage for the overall communication.
Step 2: Choose the Tone, Language, Length and AI Model
Selection of Tone, Language, Length, and AI Model: In the next step, consider the desired tone, language, and the length of your email, keeping in mind the target audience and the context of the message. Choose the AI model that aligns with your needs and the requirements of the message you intend to send.
Step 3: Click Generate Email and input key information
Generation of the Email and Input of Essential Details: Now, activate the 'Generate Email' feature. Fill in the key details pertinent to the confirmed receipt email, like the recipient's name, details of the item, order, or document received, and any specific follow-up actions, if necessary. Ensure the input information is accurate and thorough to generate an email that is both relevant and effective.
Step 4: Only 1 click to Insert Compose of Gmail, Hotmail and more
Single-Click Insertion into Various Email Platforms: Lastly, streamline the process by employing the 'one-click insert' feature. This allows you to import the crafted content seamlessly into various email service platforms such as Gmail, Hotmail, and more, facilitating efficient, professional, and tailored communication with the desired recipients. This way, your confirmed receipt email is ready to be dispatched, ensuring a smooth and user-friendly experience.
04 Tips for Confirmed Receipt Email
Tip 1: Confirmed Receipt Email subject line
Framing the Subject Line of the Confirmed Receipt Email: The subject line plays a pivotal role in a Confirmed Receipt Email. It is the first piece of information that the recipient will encounter, making it critical for capturing the reader's attention and conveying the email's purpose succinctly. The subject line should be designed to be specific, concise, and engaging, containing the keyword "Confirmed Receipt" to ensure clarity. For instance, "Confirmed Receipt: Your Order #12345 Has Been Received."
Tip 2: Confirmed Receipt Email body
Drafting the Body of the Confirmed Receipt Email: The body of the email should provide comprehensive details about the message's purpose, which is to confirm receipt. The information to be confirmed (whether it's a purchase, a document, or meeting attendance) should be clearly stated. The tone should be professional yet courteous, with concise sentences and an easy-to-read structure. Ensure to acknowledge the receipt, describe the item/document/meeting in question, and provide any necessary next steps or additional information.
Tip 3:The end of Confirmed Receipt Email
Closing the Confirmed Receipt Email: The closing section of the Confirmed Receipt Email serves to wrap up the communication neatly. It is recommended to include a polite sign-off that suits the tone of the rest of the email, followed by your name and contact information for any further correspondence. You can also add a note of appreciation for the recipient's patience or cooperation and provide a heads up about any forthcoming communications if relevant. For example, "Thank you for your cooperation. We will get back to you shortly with further updates. Best Regards, [Your Name]."
Increase Your Email Writing Productivity by 10x with AI Email Generator Today!